The photos are taken in Seattle on Broadway looking northeast to James. The archival photo is from University of Washington Special Collections, number SEA3080.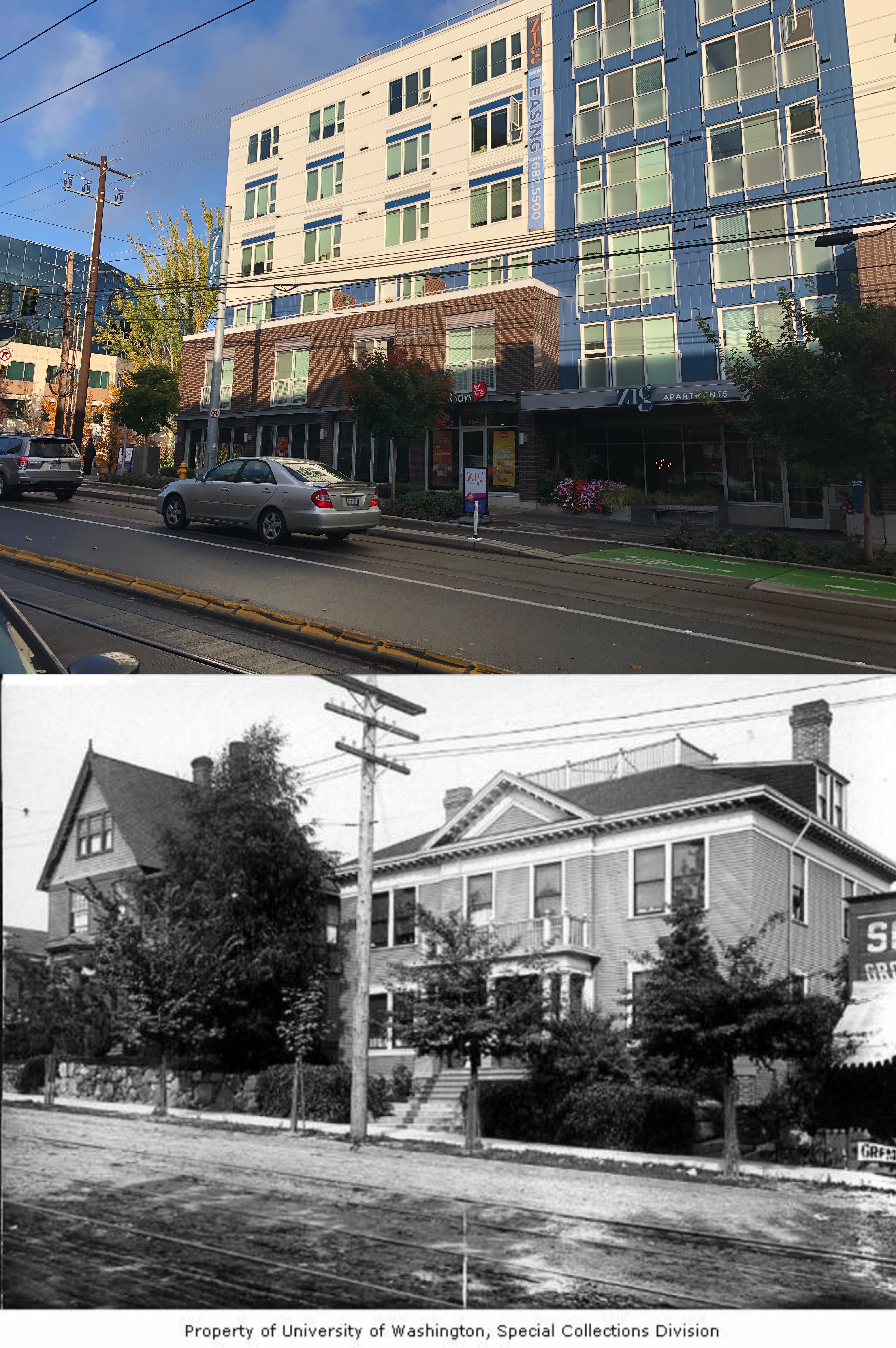 In the October 2019 photo on the left we can see East James Way cutting away right to the east. That street wasn't built until ordinance 88400 in 1959.
Back in 1899 there was a bit of a gap already though, for James Street. James Street is still there, more of a small access road than anything else, same as Cherry Street east of Broadway.
Union Trunk
On the far left of the old photo we can just see part of the James Street Power House. It pulled a cable car up from Pioneer Square and provided electricity for street cars on Broadway to the north, to Beacon Hill to the south, and from its lower end on 11th to Madrona and Mount Baker. You can see the Beacon Hill tracks in the street.
All of those lines together were called the Union Trunk Line still in 1899. I did a blended rephotograph of the cable car on James and wrote about UTL for Capitol Hill Seattle Blog in 2012.
J. P. Soule
The tall thin house to the left was the residence of the Soule family. It was built in 1889 or 1890. To its right was a duplex they built after they moved to 23rd and Judkins in 1900. John Soule was a photographer, and in fact he took this photo. The UW has an entire album of his photos from around 1900. The UW catalog description says:
John P. Soule worked as a photographer in Boston from around 1859 until 1882 when he traveled west photographing in Colorado and Utah along the Denver & Rio Grande Railroad and in Salt Lake City. In 1888, he moved to Seattle where he continued to work as a photographer.
That profile downplays his Boston work and completely ignores Soule's true fame. First, consider that Soule was born in 1828. Daguerreotypes were invented when he was 11. Photography as a profession arose after 1850, when he was already an adult. Somehow, though, he still "dominated the field of stereography from the 1860s until the end of the 1870s," in the words of Historic New England.
He opened his photography studio in Boston in 1861, when he was 33. He focused on things that stayed still, becoming an architectural and art photographer. His photographs of the aftermath of the 1866 fire in Portland, Maine are eerily similar to those he later took in Seattle in 1889. But Soule found his niche photographing famous works of art and sharing it with people who could never venture long distances to see the originals.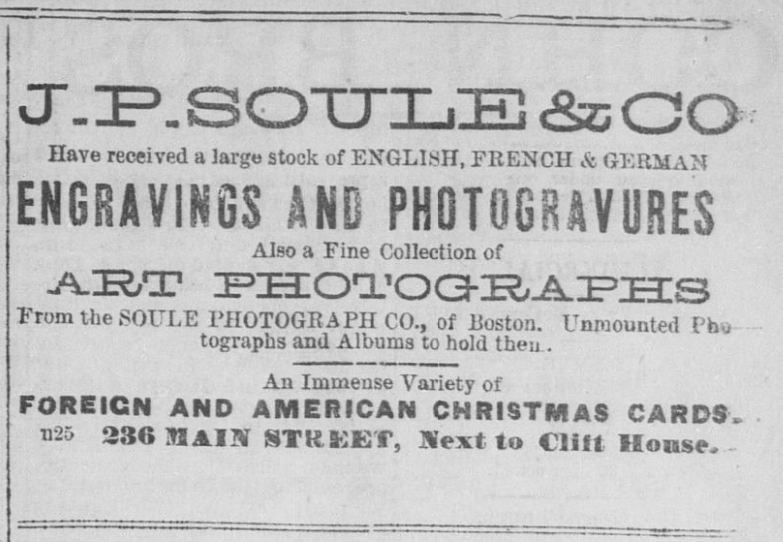 Soule art photography
Soule established himself quickly, issuing catalogs of art photographs that could be ordered by mail. The Library of Congress has many of those photographs for free download today.
Twenty years later he left Boston and headed west, leaving his successful photograph reproduction business in the hands of his brother William, also a photographer, and their partner W. B. Everett. The company continued its focus on art photography, for example this 1890 catalog of their offerings. The Soule Photograph Company's images are now in the collections of Historic New England.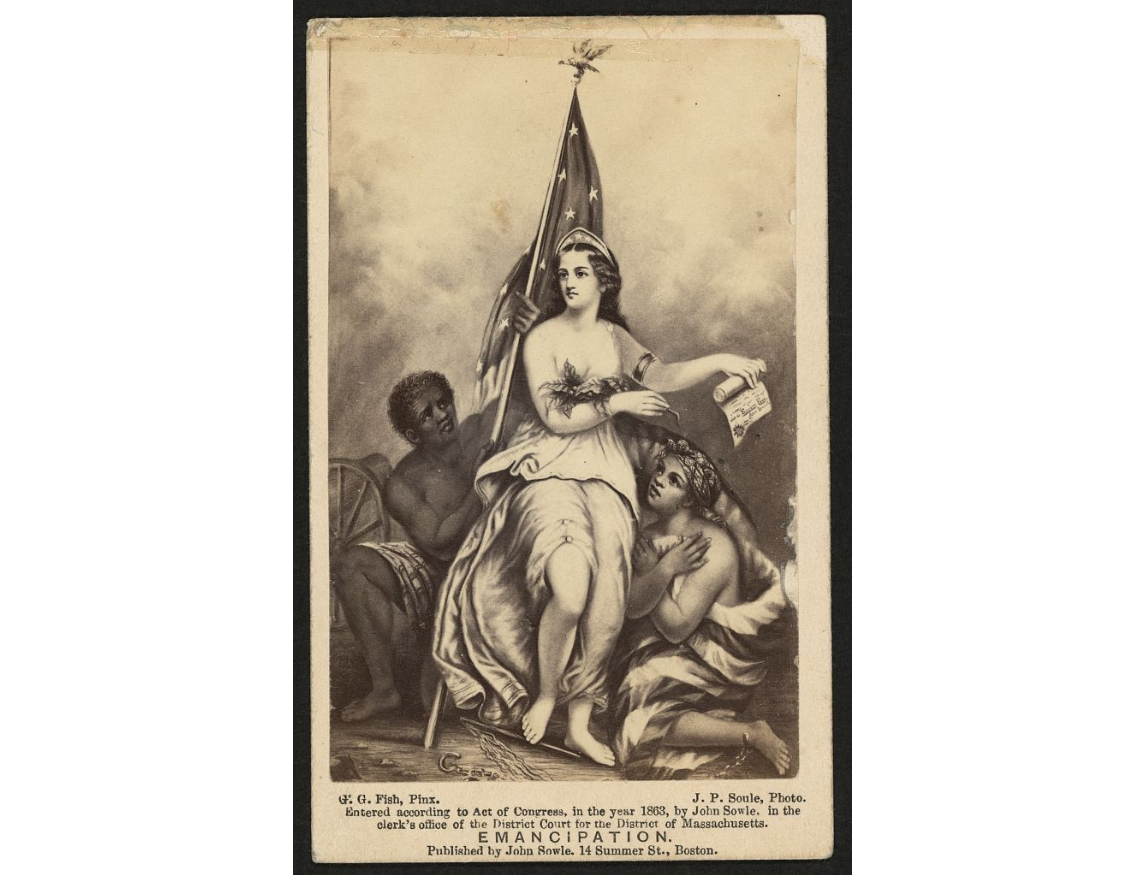 Soule rephotography
John P. Soule spent at least a few years in Salt Lake City, from 1882-1885. Then he continued to Seattle.
Soule's Seattle work is still accessible. Paul Dorpat shared it in his early columns, including 1987's "After the Blaze". More recently Jean Sherrard shared Soule again in 2017 in the continuation of Dorpat's series. They have appeared many times over the years in Now & Then. I had no idea about this when I set out to rephotograph the house of John P. Soule, and it makes me very happy.
After John's death, his wife Mary continued her civic activities, including president of the women's auxiliary of Pioneer Association of Washington.
Planned Parenthood
On the far right of the 1899 scene is a grocery, which by 1901 at least was owned by Eide & Offerdahl. In 1940 this store reportedly became the first Seattle location for Planned Parenthood, and Seattle's first birth control clinic.
The name Planned Parenthood took effect in 1942, so at the time they were the local organization for Birth Control Federation of America (renamed from American Birth Control League in 1939).
None of those names appear in the 1940 Seattle city directory, so I haven't yet confirmed that Planned Parenthood's first home was here. I'm concerned that it may have been at 516 Broadway East in Capitol Hill.
Still not Capitol Hill
The 1899 photo is indexed by the UW under the subject heading "Capitol Hill (Seattle, Wash.)". I dropped them a note in October letting them know this is really First Hill, but it hasn't been corrected yet. Capitol Hill didn't exist yet in 1899, and it's only ever existed this far south in the minds of realtors, newcomers, and tourists.
Now
The new photo has 600 Broadway on the far left, a medical office building built in 1990.
Most of the frame is taken by Zig Apartments, completed in 2017.
Streetcar tracks have returned again to Broadway, serving the First Hill Streetcar which opened after a very long wait in 2016.
Between now and then
Prior to Zig there was another building and a parking lot on the site. The building was photographed on July 21, 2010 by Joe Mabel, seen below. It was built in 1906 originally known as the Granada Apartments. In 1936 it was renamed Hotel Irvington.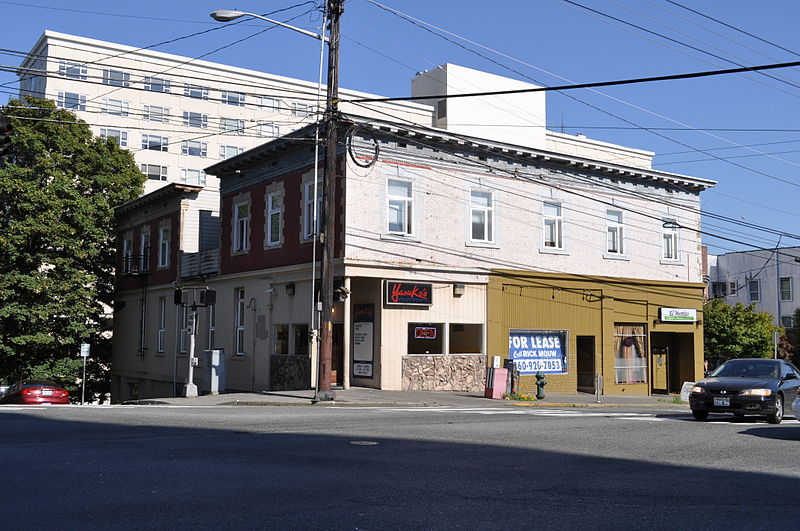 The corner, 530 Broadway, featured a branch of Yasuko's Teriyaki. It was there for many decades until demolition. For now the Yelp review page is still up, but I'll link to Archive.org assuming that it won't be there for long. Click through to read nostalgic reviews.
Yasuko's was originally part of a chain created by Yasuko Conner. Yasuko started her chain by purchasing the store she worked at in Green Lake, Toshi's Two. That store was the second opened by Toshihiro Kasahara. He invented teriyaki in 1972 at his lower Queen Anne store. So there was a very direct connection between this teriyaki store and the invention of teriyaki.
(A 1985 Seattle Times article called this her "Capital Hill" (sic) location.)
Fenimore Hotel
Joe Mabel took two other photos the same day of the building on the far side of the parking lot, the Fenimore Hotel. There is a view from the parking towards the south and a view of the storefront when it held Our Lady of Mount Carmel Center.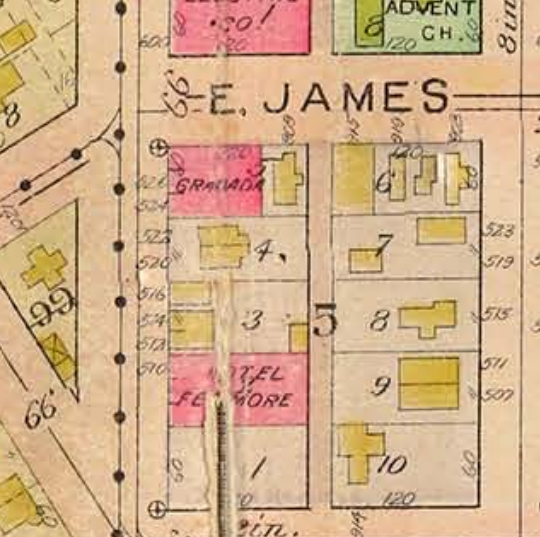 The Fenimore Hotel was built in 1909 by Marie Koester. A Seattle Times article that mentioned Koester's Fenimore construction discussed recent construction in the area. It also had a neighborhood profile that was interesting and worth sharing:
An unwritten Law, and a deep-rooted predjudice [sic] of long standing in Seattle has been routed. Daring men have broke the ties that bound them and have proven the unwritten law unworthy. This law and this predjudice had the effect of establishing Madison Street as a dead-line beyond which investors intending to cater to the better classes of people dare not venture. Ruin was predicted for the man who was so bold as to put good money into a building in this so-called worse than bad community.

The south side of First Hill was the most maligned part of the city, without cause, but it has grown away from that condition and now harbors some of the finest apartment houses of the city which shelter a class of people as good as the best.

"Builders Overcome Old Prejudice," July 4, 1909 Seattle Times p. 6
Japanese American hotel to microhousing
In 1939 the Seattle Times reported that the Fenimore was purchased from Koester's estate by George Lewis. In 1959 it made brief news in the Seattle Times as it was sold to Leo Ohashi (misprinted as Hashi) by owners Yoshito and Yuki Mizuto. At the time William Watanabe held a lease on operating the hotel.
The Ohashi family continued to own it until 2017. It was then purchased by a partnership owned by the Sharkey and Padden families. Their partnership previously purchased the Cranmore, Summit Inn, and Broadmore in nearby neighborhoods and converted them to micro-housing. They planned to do the same with Roy Vue Apartments in Capitol Hill, but residents successfully achieved landmark status for that building.
Today the Fenimore is under expansion and remodeling as micro-housing called Anew Broadway.
Blended Zig and Soule
Here are the 1899 and 2019 photos blended together for another view of how they relate across 120 years.