(This article appeared in 2014 in the Westside Weekly. It hasn't shown up online though so I'm posting it to my own site.)
Time Travel
In addition to a face and hands, some clocks have legs. In particular, clocks on the sidewalk like to go for strolls.
With the exception of Ben Bridge's clock downtown, every street clock in Seattle has been around the block. Right about now folks in West Seattle are wondering, how about that clock outside of Menashe & Sons on California at the Junction?

(Seattle Municipal Archives #75558)
It is a native of the U-District. This Gillette electric street clock was first installed clear back in 1919 and way out at 45th and University Way. It was outside Paul Griffing's University Electric Company. He was a residential electrician and seller of electric appliances. The clock fit the theme as it was slave-driven by electric pulses from a master clock inside the store.
In 1927 the clock moved to Grant Warner's jewelry store just around the corner, and then in 1929 a few blocks away to his new store on Brooklyn. During the Great Depression, Warner's store was taken over by May Turner who moved shop and clock to the Alaska Junction in 1932.
It settled in its present location on California north of Alaska in 1953 and passed through the hands of jewelers Fred Enos and Ernie Teague. Our old photo captures the clock in Enos' possession in 1956 with a Kress department store in the distance. Teague decided to give it a facelift in 1966. The head was cut off — street clocks have entire heads, not just faces — replaced with a square, Frankenstein terror.
Menashe & Sons has been its caretaker since 1973. After staring at that blockheaded clock for almost a decade Jack Menashe hired Jim Collier to make it attractive again. Collier kept the post and placed a head of his own design on top. It matches clocks he made in other parts of the region, including one in Granite Falls that was recently refurbished by the city and the Granite Falls Historical Museum.
This is the only old street clock in Seattle that isn't a protected landmark. It's been changed too many times for that. So keep an eye out — hopefully Menashe and his clock aren't going anywhere, but only time will tell.
Bonus Material
Here is some bonus material. First a couple of views of the Menashe & Sons clock. Then, another clock that used to be in West Seattle.
In 2005, before glass was replaced. I believe this head was created by Jim Collier. The prior one was really a monstrosity, in an almost beautiful way:
2010 with new glass. Hopefully better sealed!:
Another clock…
In 1923 W. F. Larne purchased a clock from Joseph Mayer and had it installed at 4th and Pike. It was mid-block on Pike on the south side. The area was already full of jewelers and clocks, but by 1930 4th and Pike had a ridiculous number of clocks. The Seattle Times said that 16 clocks could be seen within a block in each direction of the intersection. (I wrote about that intersection as well.)
Here is good evidence, from the same year. Larne was joined on his side of the block by Ben Bridge and Friedlander both with big multi-dial clocks and both in 1928. Click through for the full photo, which shows four more clocks on the north side of the street.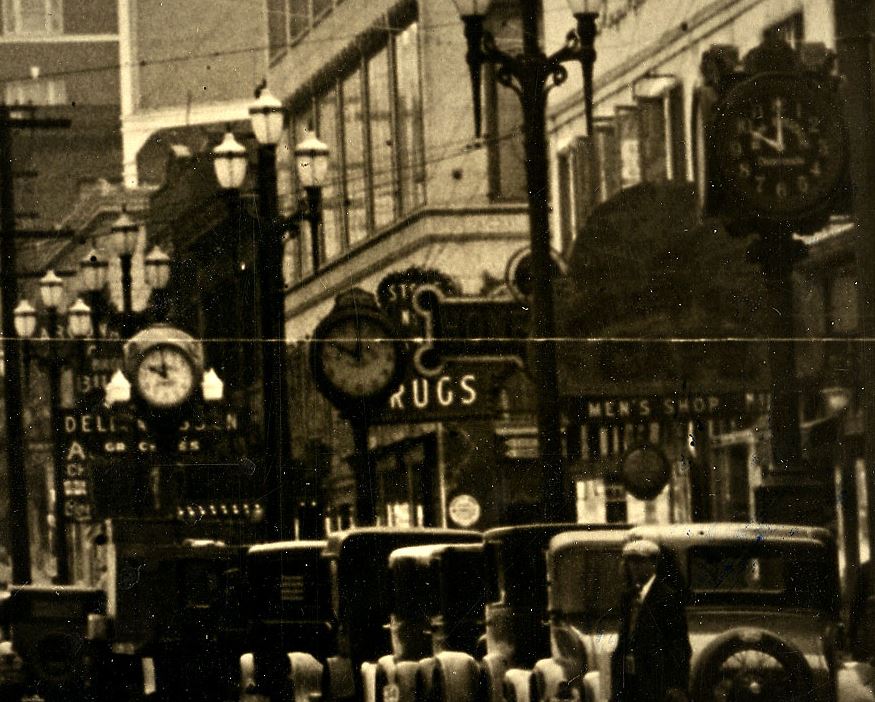 (From left to right: Friedlander, Larne and Ben Bridge. Photo 1930, posted to Flickr by William Creswell.)
In 1950 the clock was moved by Russell's Jewelers to 4551 California Ave SW in West Seattle. It survived there until the early 1980s when it was hit by a truck. The scrap was salvaged and some sold to a collector in California.

(This 1953 photo is property of the Seattle Public Library. I've taken an image of a print, purposefully low quality. This comes from the Werner Lenggenhager Collection in the folder Clocks.)
The Menashe & Sons clock is one of a hundred or so clocks that I have cataloged in the city-wide list of the Seattle Clock Walk.
My Other Clock Posts