While researching an oddity in Ballard called Mount Jennings I entered several blind spots in Seattle's history. This, a brief article about the Denny Hotel design phase, is the first.
Strangely, there hasn't ever been a good, thorough, or even dramatic retelling of the tale of the Denny Hotel. Strange because the Denny Hotel is ever-present in stories of Seattle in the 1890s and 1900s.
Denny Hotel design competition
In 1888 Arthur Denny decided to build a noteworthy, landmark hotel in Seattle.
The competition kicked off on September 11, 1888 and lasted two months, drawing in 25 architects with proposals. The Denny Hotel corporation was formed and they went about the process of selecting a winner.
In early January 1889 New York architect Arthur B. Jennings and several other of his competitors visited Seattle to explain and defend their designs. A panel was pulled together to review them and select the most attractive and usable hotel design.
A. B. Jennings won the design competition for the Denny Hotel on January 12, 1889. Arthur Denny and the officers of the hotel corporation hired him to build Seattle's grandest hotel on the high crest of Denny Hill, overlooking the city.
---
This is 1st of a 7-part series Summiting Mount Jennings.
---
Grand style of the Denny Hotel
After Jennings won, his plans were described by the Seattle Post-Intelligencer in glowing terms:
The design is modern Gothic, and the material of consturction will be stone and brick.
Its appearance will somewhat resemble that of an ancient feudal castle, with a tower rearing its dome 146 feet in the air over the main entrance. Upon the corners are located side towers 100 feet high. That upon the southwest is supplemented by an additional tower which allows the small space between to be filled by a tier of balconies. Two wings extend back from the ends of the main edifice. Between these wings is located the dining room, constructed with an open timber roof.

January 13, 1889 Seattle P-I, page 5
Although the Seattle P-I called it Gothic, the Denny Hotel's arches were rounded and not pointed, so they were Romanesque. Romanesque revival grew in popularity in the late 1800s, in part driven by the success of architect H. H. Richardson. In Seattle there were examples before June 1889's Great Fire, but even more were built afterwards. In 2003 UW professor Jeffrey Ochsner wrote a fantastic book just about Romanesque in Seattle, Distant Corner, which I recommend to learn more about this time and architectural style.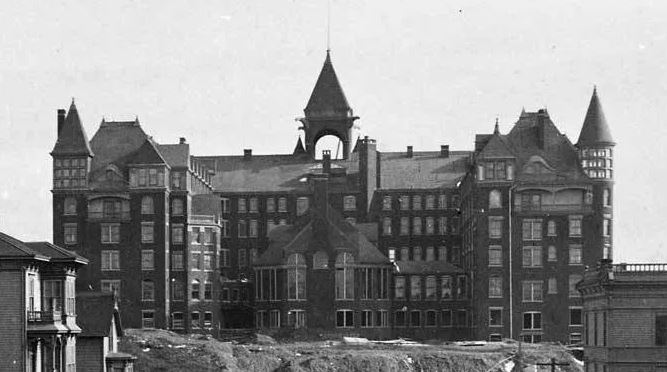 A hotel designed within a hotel
After he was selected, Jennings set up temporary Seattle quarters in room 36 of the Occidental Hotel and drew up detailed plans for construction. By the end of February he was finished, and returned to New York.
Jennings entered a partnership with Albert Wickersham, who oversaw construction of the ill-fated hotel.
Further reading
Next: Revealing Albert Wickersham, part two of Summiting Mount Jennings
Then: Denny Hotel construction lasted one long decade, part three