Here's the story, expanded now, that made me start researching Arthur Jennings. It started with Ballard streets. Stick with me here. We're almost at the two-part conclusion of the series that it launched.
The first three parts of the series talked about the Denny Hotel: A. B. Jennings as designer; architect Albert Wickersham who oversaw construction; and the fourteen painful years it took to build. Then we pivoted to Ballard and learned about Jennings and his brothers whining about paying their share to build city infrastructure.
In addition to the individual lots, Arthur owned a large tract northwest of central Ballard in what's now the Sunset Hill neighborhood. Under the supervision of his brother Emerson, Arthur and his wife Caroline filed a plat to subdivide their property for sale in May 1890. It was named the Jennings' Addition to Ballard.
---
This is part 5 of a 7-part series Summiting Mount Jennings. You could start at part one.
---
Pulled from Ballard street data
This is how I stumbled upon Jennings.
I've been building indexes for Seattle's street name changes, neighborhood by neighborhood or at major events. It's a deep rabbit hole I've gone down while working on a project to map all buildings constructed in 1890 in Seattle.
Recently I revisited Ballard to improve the data and dug around for stories about streets. One was quick, Brygger Place. Then I saw Jennings Street in the Jennings' Addition. As you've discovered in this seven-part series, I went down another very deep rabbit hole inside my already deep rabbit hole.
Jennings, an egoist Ballard street
Figuring that if I learned why it was called Jennings' Addition I'd also learn why it was Jennings Street, I looked up the plat to see who filed it, and what the other street names were.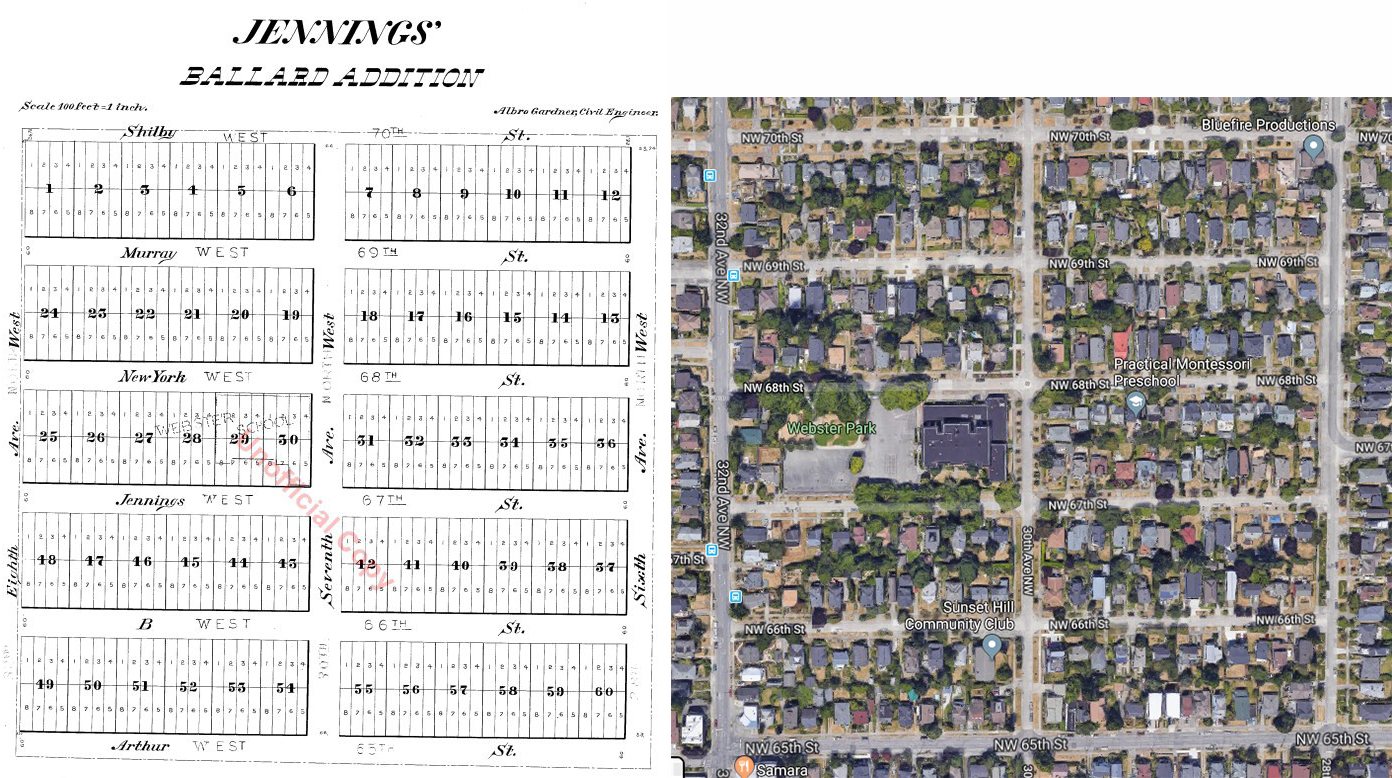 By comparing the Jennings' Addition plat to neighboring additions I was able to determine that Shilby, Murray, and the numbered Avenues were not unique to Jennings.
I've seen other plats where streets all have eponyms from a family. But after I dug up his genealogy I found no matches for Arthur's son Edward, daughter Helen, or wife Caroline. Instead, the four unique names in this plat are entirely egotistical: Arthur Street (now N.W. 65th), B Street (N.W. 66th), Jennings Street (N.W. 67th), and New York Street (N.W. 68th).
I even tried to convince myself that the streets' eponym was his son Arthur B. Jennings, Jr., but that was at odds with next street north. New York Street (NW 68th) made the streets from south to north simply the bold text of his business card:
"Arthur B. Jennings, New York".
It must have felt good to think that people lived on streets named after him. But it didn't last forever.
Already the end of Jennings Street
Like Seattle, Ballard had a street name problem. King County regulators allowed owners to choose whatever names they pleased for streets. As a result, more than one street had the same name. And what should be one continuous street changed names every few blocks. Unlike Seattle, Ballard took a slow, haphazard approach to rationalizing names.
Arthur and B Streets were the first to go, in Ballard ordinance 368 on June 17, 1900 along with twenty-one other streets. Arthur became part of Ship Street, one of the major east-west streets of Ballard. Ship eventually became N.W. 65th Street when Ballard was annexed into Seattle in 1907.
B Street went with it. Ballard already had another B Street in the original Gilman Park plat, now N.W. 46th Street from Shilshole to 11th Avenue. This must have caused plenty of confusion for anyone who owned property in Jennings Addition and tried to give directions. B became Carolina Street. It would be nice if this was for Arthur's wife Caroline, but the coming story of Mount Jennings makes me think Ballard leaders wouldn't bother to do something that kind.
Jennings Street lasted until 1905, when it was consolidated with other east-west streets to become Brig Street. Fifty-one other streets were renamed as well in Ballard ordinance 881 on April 12, 1905. In June, 1907 Brig was renamed W. 67th Street by Seattle Ordinance 16363 after Ballard was annexed, and in 1961 that became N.W. 67th.
Of the group, New York Street lasted the longest. It actually grew, in an unintentional homage to Seattle's original name: New York, Alki. The plat to the west, Ballard's 4 Acre Home Tracts, had a street named Washington Avenue that was switched in 1905 at the same time Jennings was erased. Washington became New York, then, by and by. New York Street lasted all the way until July 1907.
First residents on these Ballard streets
George Ferguson, a carpenter and newcomer to Seattle, bought lots 2 to 7 on block 38 of the Jennings' Addition on October 22, 1892, for the princely sum of $1. In Seattle, groups of lots traded that same day for hundreds or thousands of dollars. Clearly, the Jennings' Addition did not make Arthur Jennings rich.
Ferguson's property stretched between B Street and New York Street, near the eastern edge of Jennings' Addition at 6th Avenue West.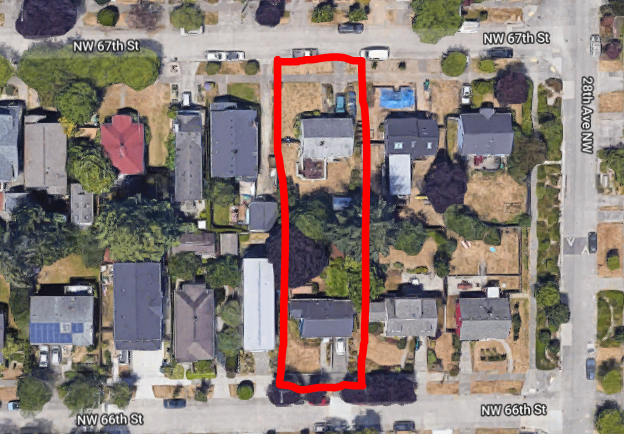 The property they lived on is now roughly 2814 N.W. 66th St and 2815 N.W. 67th St. That's not quite right because Jennings' Addition lots were deep and too narrow, and they have almost all been adjusted. Ferguson's property was just beyond the edge of early real estate maps. By the 1912 Baist map, whatever structure the Fergusons built was gone.
The 1892 Ballard city directory lists only George W. Ferguson's residence in the Jennings Addition. In 1893 another resident appeared, Valentine Schmeiske, a laborer at the Stimson Mill.
Schmeiske left no clear record to track him, but Ferguson stayed local for a couple of decades. With some digging his profile has emerged.
Fergusons on Ballard Streets
George W. H. Ferguson brought his family with him to Ballard: wife, Mary (Wankey); and three sons, Charles; Arthur; and Perry. Perhaps the name of Arthur Street drew them to live a bit of a walk from Ballard's stores and employers.
George, and later his sons, worked hard. George was listed as a laborer in 1892, and by the next year as a contractor, evidence of his success. In later years his profession was consistently listed as carpenter.
According to his son Arthur's 1977 Seattle Times obituary, George brought the family from Minnesota (Mary, Charles, and Arthur's birthplace) directly to Jennings' Addition in 1892. But that's not correct. George's third son Perry was born in Seattle on May 14, 1891. There is a carpenter George H. Ferguson listed in the 1890 directory for Seattle, and some documents have his full name as George W. H. Ferguson. So I think the Fergusons were drawn to Seattle by the massive amount of labor required to rebuild the city after the Great Fire.
In 1894 the family grew with the birth of a fourth son, Melvin, the first definitive Ballard Ferguson. When they came of age, brothers Charles and Arthur worked as weavers or shingle stackers at Seattle Cedar Lumber Manufacturer Co.
School for Perry and Melvin became a very short walk in 1903. That year Ballard expanded its schools with two temporary buildings between Jennings and New York streets on Seventh. This was initially called the Bay View School, causing confusion with neighborhoods in West Seattle and Georgetown. Later it was rebuilt and renamed the Daniel Webster School. For many years, until recently, it was leased by Seattle's Nordic Heritage Museum.
The Fergusons' address was imprecise in directories. In 1900 the census had them somewhere in the vicinity of B Street (66th), 6th Street (28th), and Ship Street (Arthur / 65th). In 1904 per the city directory they lived at the corner of Carolina (B / 66th) and 6th. That probably reflected the sparse settlement of the area.
Fergusons off Ballard streets
Melvin was the last Ferguson born in Ballard. By the next generation they had moved on.
In June 1904 brother Charles suddenly took ill at work and died a day later of "intestinal obstruction".
The rest of family with grown brothers still all lived together in 1910. George still worked as a carpenter. Arthur and Perry were shingle sawyers. Melvin was a shingle packer, following in his brothers' footsteps at the mill.
Mill work was not easy. The World War One draft cards for the brothers listed distinguishing scars on their hands along with missing fingers. By 1910 they moved a half block south of the Jennings Addition to 6425 30th Ave N.W.
And then they began to drift. First Arthur got a job in Stanwood and got married. He opened his own shingle mill in Silverdale. Perry was drafted to the army for World War One while working at a shingle mill near Vancouver, B.C. Afterwards he and their parents joined Arthur and George in Silverdale. George died there in 1920.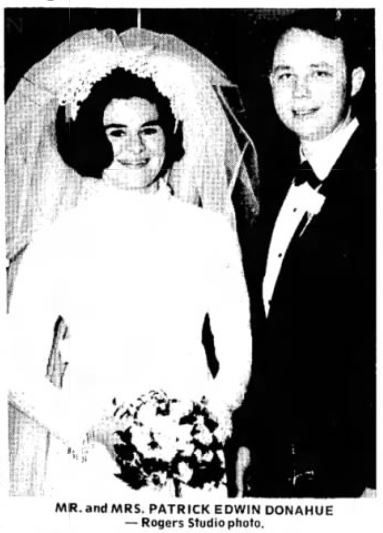 Arthur eventually sold his mill and took work at a mill in Shelton. Melvin worked in Canada in the 30s (George was born in Canada, perhaps explaining his sons' proclivity for work there), got married there, and then opened his own shingle mill in Port Angeles. With his wife Doris he raised three daughters, the only brother to have kids. That made them stick in one place. When he died in Port Angeles in 1988 he had grandchildren as well.
Mary went with her son Perry to Port Ludlow after he was married. Perry died in 1944, and Mary died there shortly after in 1946.
All of the Fergusons returned to Ballard in the end. George, Mary, Charles, Arthur, Perry, and Melvin are all buried at the Crown Hill cemetery, two miles northeast of the Jennings' Addition.
Further Reading