In October and November 1953 a team of America's biggest stars traveled to Honolulu, Tokyo, Nagoya, Okinawa and Manila to put on a show. Each city had a large U.S. military presence. But particularly the visits in Japan were intended to stoke the rekindled flames of baseball fanaticism.
In 1949 Lefty O'Doul brought the San Francisco Seals to Japan to reestablish goodwill. He returned in 1950 and 1951 with stars from the MLB. In 1953 the team of stars was led by Yankees pitcher Ed Lopat and included future Hall of Famers Yogi Berra, Enos Slaughter, Ed Matthews, Nellie Fox, and Bob Lemon. Lacking MLB's official sponsorship they called themselves Lopat's Nomads.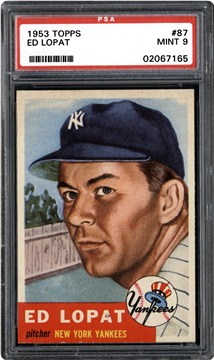 On the way to Japan they stopped in Honolulu, Hawaii and played a three-game series against Roy Campanella's All Stars, made up of some of the African American players in the recently desegregated MLB. Campanella's men won the rubber game and went back to the States on their own exhibition tour. Lopat's Nomads boarded a swanky Pan Am Clipper for the eleven hour flight to Tokyo's Haneda Airport.
At Haneda, each of the fifteen players stepped into their own chauffeured convertible and were driven through intense crowds to the Nikkatsu Hotel. The New York Times reported that "it took the motorcade… three hours to make the trip [that] normally… takes less than half an hour." (Oct 23, 1953)
On October 24 Lopat's Nomads played their first game in Tokyo at Korakuen Stadium. It was against the Mainichi Orions, a mediocre team who went 56-62 in 1953 and placed fifth in their seven-team league. Everyone expected a blowout and the Japanese fans and American GIs and expats in the stands must have eagerly awaited a home run derby. After United States Ambassador John M. Allison threw out the opening pitch, everything went wrong for all-stars.
The October 24 New York Times framed it eloquently:
"But the Americans failed to reckon with a slim southpaw named Atsushi Aramaki who held the Americans to four hits until the ninth inning as Mainichi enjoyed a 4-1 lead.

"Suddenly the Lopats began to remember they were big leaguers. After Ed Mathews walked, Hank Sauer won a $325 Nikon camera for hitting a homer high into the left field stands. Ed Robinson followed with a homer into the right field stands to make it 4-4.

"The rally, which erupted with none out, ended when Yogi Berra and Billy Martin grounded out and Jack Jensen flied out.

"But the Japanese came back full of fight. Takuzo Miyake greeted Mike Garcia with a hit to right. Charley [sic — Charlie] Hood, an American G.I. from Camp Drake, who formerly was a rookie farm hand with the Phillies, hit a ball over the right field bleachers, foul by inches. Robin Roberts came in for Garcia and Hood hit his first pitch against the right field wall to score Miyake with the winning run."
In his autobiography My Life in Baseball, Robin Roberts remembered the event.
Garcia… pulled a muscle in his calf and had to come out of the game. Lopat, who was acting as manager, said, "OK, who'll go out and pitch?"

I said, "I will," so I went out to get loose. Charlie Hood was the first batter I had to face. On the first pitch I threw him a low fastball and he ripped it down the right-field line for a game-winning double. I threw one pitch, and we lost the ballgame 5-4. Bob Lemon could not believe it and would not let me forget it for the whole trip. I had been telling him what a good low-ball hitter Hood was, and then he watched Hood beat me on a low fastball.
Roberts spent a good portion of chapter eight of his book discussing the trip to Japan.
I also recommend reading the first-person game account of John Holway, author of the 1954 book Japan is Big League in Thrills.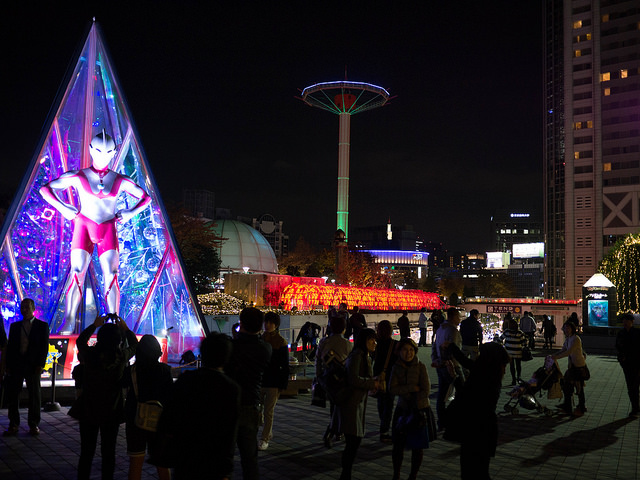 I picked up this old photo from an antique store that I had never visited before in Burien, Washington. It was a small snapshot but I thought I could recognize Chinese or Japanese characters on the light stands. Figuring it might be Japan I bought it on a whim.
Because of the high quality of production I was able to zoom in very far on a scanned copy and read player names on the scoreboard in Japanese and text on the outfield wall including the English "Welcome Major League All-Stars". Hours of research led me to know the exact day and time: October 24, 1953, 1:41 pm. I also learned the importance of the event and how it must have felt for the photographer (who I believe was an American businessman living in Tokyo) to look back at it over the years and remember what transpired.
I've lived in Tokyo off and on for a total of more than four years and visited many times. So it was only a matter of time before I had the chance to visit the same spot as the mystery photographer. I've done many rephotographs in Tokyo but this trip I wouldn't be able to wander freely.
Luckily we planned to visit the former location of Korakuen Stadium. Today it is known as Tokyo Dome City, a complex of entertainment, shopping, dining, residential and hotel uses. Tokyo Dome replaced Korakuen Stadium in 1988. Korakuen is also famous for its amusement park. Prior to the stadium's demolition the amusement park was only across the street in the area that has now been rebuilt and rebranded as LaQua (Ra-kuu-a). After Tokyo Dome was built the area formerly occupied by the stadium was used as an expansion of Korakuen amusement park. This included a stage for performances by "suit actors" for the Super Sentai series, known as Power Rangers in English. This area is now referred to as "At-Raku", short for "attractions".
(Xyz City is a recent name trend in Tokyo planning for areas that have been collaboratively rebuilt as coherent all-in-one mega-neighborhoods. Tokyo Station City and Shinjuku Terrace City are two others that come to mind.)
I was unaware of an even greater coincidence until we were already in Tokyo. The MLB All-Stars were visiting Japan for the first time in eight years, playing the Japanese National Team, known as Samurai Japan. As I stood with my right shoulder to Tokyo Dome, inside the game was transpiring. Perhaps at that very moment Robinson Cano of my home-town Seattle Mariners was having his toe broken by a low pitch. Probably some of the people milling about and having their photo taken with Ultraman were there for the game.
It's an amazing change in sixty years from the low-walled stadium — so low that one of Lopat's Nomads managed to crank a homer out of the park and win a motorcycle for his deed. Now towers rise everywhere, and the sounds of electronic games mix with thundering roller coasters and screams of fear mixed with joy. Meanwhile shows and games transpire behind closed doors and trains swallow and disgorge hordes of travelers not far below everyone's feet.