To build the Denny Hotel, Arthur Jennings entered a partnership with architect Albert Wickersham, who took over supervision of construction.
Some details of Wickersham's history prior to Seattle are well known, but there are significant gaps. The best record is in the Pacific Coast Architecture Database. Wickersham was a partner in an architecture firm in Portland in the mid-1880s, and also later worked as a draughtsman for a Portland architect. He supervised construction of the Bank of British Columbia in Victoria in 1885 and was also working there in 1888.

While conducting this research I discovered that although Seattle architectural historians don't know Wickersham's background, Arkansas genealogists certainly do. The Seattle Public Library has a reference copy of the 2001 book The Wickersham Family in America which covers thousands of Wickershams.
---
This is part 2 of a 7-part series Summiting Mount Jennings. You could start at part one.
---
Genealogists know Albert Wickersham
Albert Wickersham appears on page 510 of The Wickersham Family in America with the surprising revelation that he was born named Abner Wickersham and had the nickname Bud. Nearby pages include a sister who went by Belle and a relative Jewel who went by Joseph, so nicknames were common in his family.
Albert was born in Yellville, Arkansas on October 21, 1850. He was married three times, twice while in Seattle to Irene Wilson in 1893 and Louise Kelly in 1900. He had three children and at least one grandchild. Yellville had a lot of Wickershams, and the town paper Mountain Echo includes a constant stream of notes on folks who emigrated to other parts. Through it we can find that the Wickershams lived in clumps: he was related to most or all of the Wickershams in Portland when he was there, and in Seattle as well. There was a group of Wickershams in Yakima.
Albert Wickersham comes to Seattle
It's not clear how Arthur Jennings met Albert Wickersham, or whether Wickersham was already in Seattle prior to their partnership. While Jennings was in Seattle in January and February 1889 he employed four architects to help him finish the plans, according to the Seattle P-I. Probably Wickersham was among them. Presumably his prior experience as a supervising architect earned him the same job during Denny Hotel's construction.
It's also not known how serious Jennings and Wickersham were about soliciting more work. An ad ran for three months in the middle of 1889 in the Seattle P-I, suggesting they were ready to take on something together after the Denny Hotel. No second project happened.
But eventually Denny Hotel construction faltered. We'll hear more about that in part 3. When it did, Wickersham found work in Seattle designing Romanesque revival buildings of his own. And he spent the rest of his career here until his death in 1926.
More work for Albert Wickersham
Wickersham wasn't often newsworthy, but it was his temper that earned notice. During the Denny Hotel trial, circumstances described in part 3, general contractor Fabian Potvin complained that he was mistreated. The P-I said, "Wickersham made several threats against him in a controversy over alterations."
By early 1891 Albert Wickersham was already finding new work, and it was newsworthy again. This time it was for his supervision of construction of the Terry-Denny Building. "[Contractor] Jones states that… he was prevented from finishing his contract by Architect A. Wickersham… whose unreasonable, arbitrary and exacting methods interfered with the work and made it impossible for him to complete the contract."
Wickersham is best remembered for the Dexter Horton Bank Building, now known as the Maynard Building. Dexter Horton Bank, under the leadership of William Lapp, was the financier of the Denny Hotel, and surely that link earned Wickersham this commission. Arthur Denny was the president of Dexter Horton, and considering his half ownership of the Terry-Denny Building, Arthur Denny and Albert Wickersham must have had a quick bond.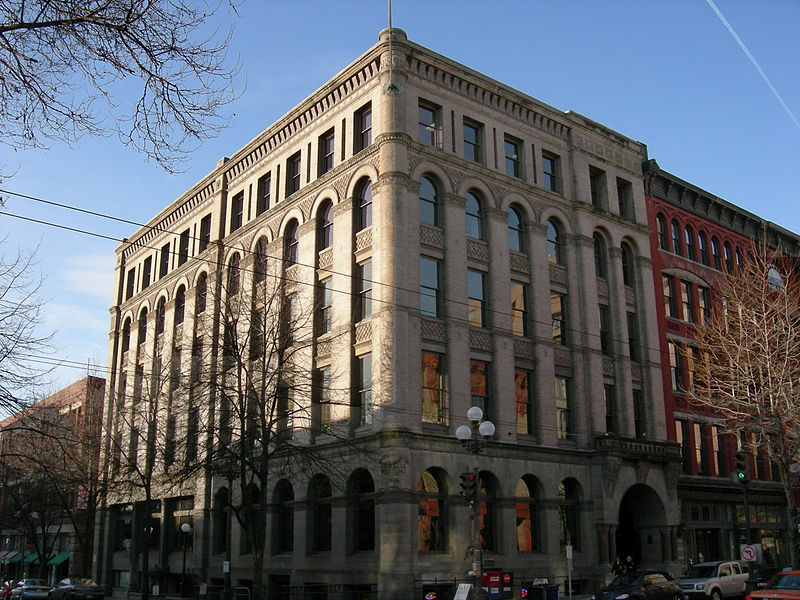 Phoenix part time
From 1893 to 1896 Albert and his wife Irene Wickersham lived in Phoenix, Arizona. Irene suffered from tuberculosis, and they moved in the hope that her condition would improve. Phoenix brought them close to her family who lived in Prescott, Arizona. Albert seemingly split his time between Phoenix and Seattle during this period, doing work on the Terry-Denny building and helping to form the Washington chapter of the American Institute of Architects (AIA).
Albert Wickersham returned to Seattle after Irene succumbed to tuberculosis in 1896. He continued his career, doing occasional but notable buildings such as the Seattle Hardware Company Building (1905) and Yesler Hotel (1914).
Further reading