If you've read my book Lost Seattle or browsed through this site, you know I've got a thing for the lost and the forgotten. So when a friend emailed asking me to find evidence of a defunct mosquito fleet port, I was all in. My task: prove that Gilberton, WA was different from Brownsville, WA.
The mosquito fleet was a swarm of small steamers carrying passengers, mail, and parcel freight between ports on Washington's Puget Sound, its bays and up navigable rivers. They even connected up into British Columbia. The first at Seattle was the Fairy which began service in 1853 when Seattle's settlement was just a couple of years old. In my book I chose the 1936 fire on the Verona which was left to burn at its dock as the end of the small, old fleet.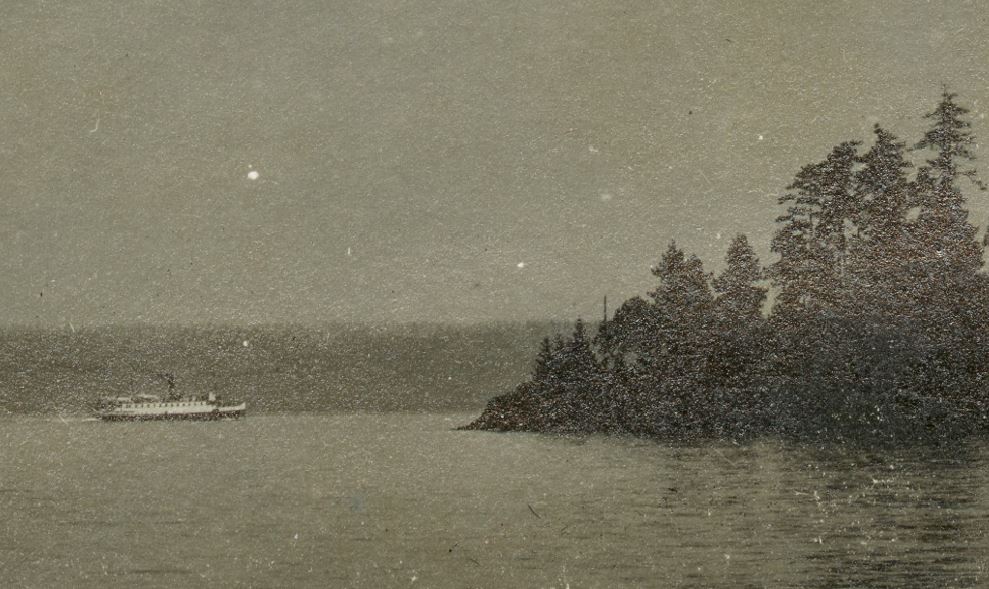 Gilberton's story started fairly early, in 1888. Thor and Olive Gulbranson claimed land and settled a farm near Brown's Bay (now Burke Bay), south of the growing community that became Brownsville. A family of Norwegian immigrants, the Gulbransons joined a boom in Scandinavian settlement on the inlets, bays, and fjords of the Kitsap Peninsula. Phil Dougherty on HistoryLink had this to say about Brownsville's Scandinavian roots:
The unincorporated community of Brownsville, located in Kitsap County, first saw some scattered non-Native settlement in the 1860s, but real growth — mostly of Scandinavian immigrants and their descendants — did not arrive until the 1880s. When a post office was established in January 1890, it was named Brownsville after Solomon Brown, who was probably the first white settler to homestead in the area. By the early 1890s there was a small floating dock servicing Brownsville (a more permanent dock was built in 1901), and regular daily landings of steamers began in 1892 when the steamer Delta began delivering mail from Seattle.
Apparently the Gulbransons changed their name to Gilberton in about 1907. They then subdivided their property, filing a plat for Gilberton on April 15, 1908. They were running ads for their development Gilberton-on-the-Sound even before that in the Seattle Times. Ads expanded to the Seattle Star for a free boat ride on May 21st: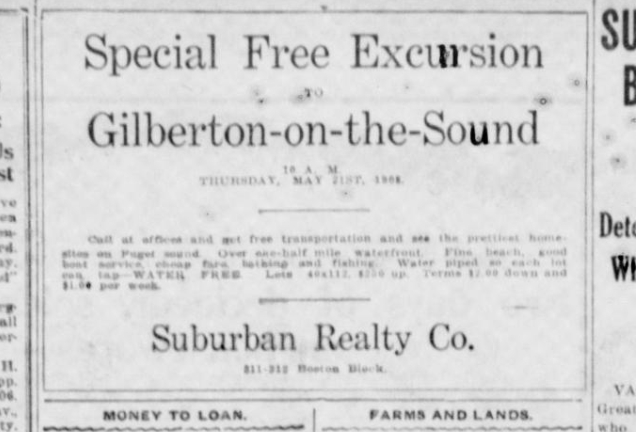 Gilberton-on-the-Sound was marketed as a half mile of beachfront perfect for vacation homes and complete with fresh water ready to tap. The ads read "Fine dock, daily boat service, short ride from Seattle."
Mosquito fleet service to Gilberton was offered from Seattle by the Kitsap County Transportation Company, initially from Pier 3 and then in October 1910 from Pier 4.  Additional service connected the community with nearby Bremerton. In 1917 the Grahn family purchased the steamer Tazlina and its service between Brownsville and Bremerton, including Gilberton and the family property Grahn Kove. The Grahn steamer history can be read on the Great Peninsula Conservancy website.
Remnants of the old pier are apparently still visible east of the terminus of Utah Street in Gilberton. A proposal for a mosquito fleet walking route says, "The first [historic point between Brownsville and Bremerton] is an undeveloped street end off of Utah Street. The remnants of the Gilberton dock can still be seen jutting out of the water. " It has slowly faded away for decades, but was still strongly represented in 1948 NOAA navigation charts: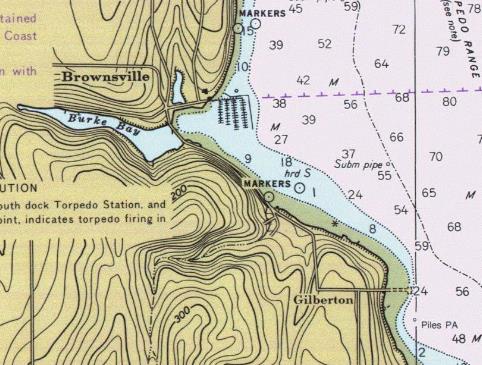 The NOAA map was the evidence I was looking for to show that Gilberton was a separate community with its own dock. Other good histories have been written of Gilberton, such as this 2012 Kitsap Sun article. Along the way many facts have been muddled, though. Examples of common mistakes in articles I've linked to include the plat date of Gilberton (always referred to as 1909, but is actually 1908) and names of ferries owned by the Grahn famly (should be Chickaree and Tazlina). We're all in agreement, though, that Gilberton was nearly forgotten — if you've read this far you've done your part to stave that off for another decade at least.
Further Research
None of my normal sources turned up documentation on the Gulbranson / Gilbert family, which is strange to me. The Washington State Archives or at least Ancestry.com usually provide basic facts. I'd love to validate the story about the family name change and dates of first settlement (I picked it up from Maritime Place Names, which has a reference from Washington State Place Names). Also I'd like to know the names of their children.
It also took some digging to confirm that the Kitsap County Transportation Company ran steamer service from Seattle. If they operated boats on fixed runs, I'd like to know which steamers stopped at Gilberton.
Drop me a line if you have anything to share on these or related topics!